Podcast: Play in new window | Download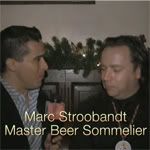 ReMARKable Palate Video #27: Beer Sommelier Marc Stroobandt
Master Beer sommelier Marc Stroobandt left law school to learn about beer, trading one bar for another! We learn about the best way to enjoy Belgian beers, including Stella Artois, Hoegaarden and Leffe. Listen for Jennifer's audio interview with Marc on Food Philosophy #69.
ATTN: Please be sure you have the correct feed address for ReMARKable Palate. Please subscribe to http://feeds.feedburner.com/ReMARKablePalate. The show will soon be switching feeds, and if you're subscribed via Feedburner, you'll never miss an episode! (Once there, you can click on your podcatcher and be subscribed automatically)
To update your iTunes settings manually, click on "Advanced", then "Subscribe to Podcast", and type in the feedburner URL, http://feeds.feedburner.com/ReMARKablePalate , and you're good to go. Thanks!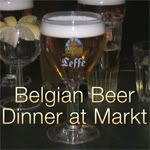 Music: "Go Fish" by Big Money Grip, from the Podsafe Music Network. music.podshow.com
The ReMARKable Palate is a production of The Culinary Media Network. www.culinarymedianetwork.com



food, food podcast, ReMARKable Palate, Culinary Media Network, Gilded Fork, Chef Mark, beer, Marc Stroobandt, Belgium