24 Jan

Beer-Braised Beef Back Ribs

I see the mastering of lesser cuts of meat as the mark of a true cook. Let's face it: Anyone can serve a decent filet mignon — there isn't a whole lot of cooking involved. Given both the skyrocketing prices of food and the deep-seated need for me to master those lesser cuts, I have set out to master the art of braising. All-Clad was kind enough to send me a 6-quart saute pan to test from their new Stainless with d5 collection, so it is my new plaything (initial thoughts at the end of the post). I do love a pan that can go directly from stove top to oven, as it makes the cooking and cleaning easier.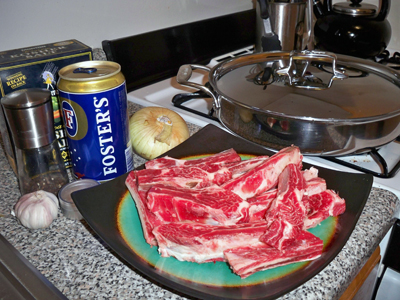 There is something inherently comforting about slow-cooked, caramelized beef, but it takes a bit of patience — not my strong suit. Nevertheless, I reminded myself ahead of time that such patience would result in a luscious dinner.
The last time I made beef-back ribs I used an ale and finished them on the stove top, and used a small soup pot. This time I decided to go with a lager and finish them in the oven in the All-Clad pan. In this case I used Foster's, as it was the only beer I could find in a single serving, and one can does the whole batch.
The beauty of these ribs is that they are mighty cheap. I bought two packs (about 12 ribs) for a total of $3.00. These are not to be confused with short ribs, which have the meat on top of the bones. These have the meat in between the bones, and are much cheaper. Now, I might be braising these slightly differently from the way others do, but I look at recipes as a guide. Feel free to adapt, add different flavors, or whatever you like.
Step 1: Caramelize the ribs.
This is the most critical part of the whole process, so don't rush it. You want to really get some caramelization on these ribs before they are submerged in liquid, because it's a major part of your flavor component. It will take about 20 minutes. Lightly coat the ribs with Kosher salt and a bit of pepper, get your pan really hot, add some olive oil, heat until it shimmers, and place your short ribs in the pan. Leave them alone.
While that's happening, pre-heat your oven to 375 F. Resist the urge to move the meat around too much — let the magic happen.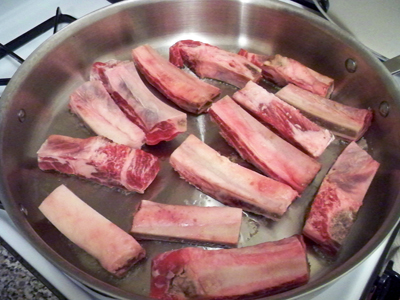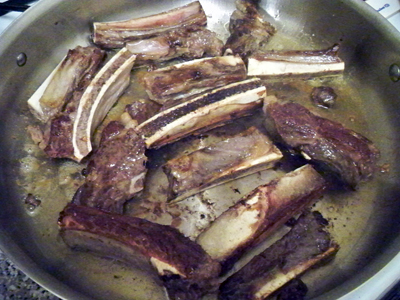 Step 2: Add onions & garlic.
You can also add carrots here, but I forgot to grab one at the supermarket. It happens. Reduce your heat and add the onions and garlic. You may want to wait until the last few minutes to add the garlic because if it burns it will ruin the whole dish. I probably should have been a bit more patient here with the onions, but I added the garlic simultaneously and didn't want to burn it. (This photo is before the onions had done their delicious sweating.)
Note: Some recipes call for removing the ribs, draining the fat from the pan, and starting with fresh oil to sweat the onions, garlic and other vegetables. I disagree, because in this case there wasn't too much fat left, and I wanted the flavor.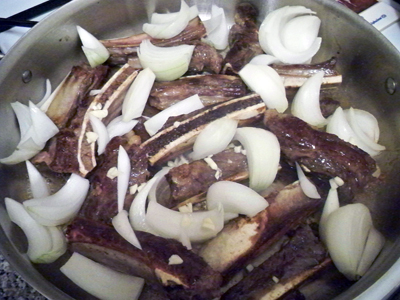 Step 3: Add braising liquid, herbs & spices.
I added a giant can of Foster's, some of the rosemary water I made the other day (not just for hair!), some ground coriander and a hint of Chinese five spice. (Add whatever spices tickle your fancy. For whatever reason, my mental mouth liked these.) Stir the liquid and scrape the bottom of the pan to loosen all the yummy bits. These are also important for flavor.
Step 4: Cover and place in a 375 F oven.
Now go away. For about 3 hours. You can check on the liquid periodically (I do so about every 30 minutes), but let the meat do its thing.
When the ribs are finished, the liquid will have reduced considerably, and the meat will be falling off the bone. You shouldn't need a knife to cut it apart. Note: This is when you should check the salt flavor in the dish. I tend to go easy on the salt in the beginning, because as the juice reduces the flavors become intensified, and too much salt will ruin it.
Step 5: Serve over something starchy and delicious.
Some people serve these with potatoes or rice, but I am a huge fan of egg noodles. I like the way they slide over my tongue and slither down my throat. Once I remove the bones and there is nothing but meaty goodness, I like to slather this over a pile of noodles and lose myself in silky, meaty goodness.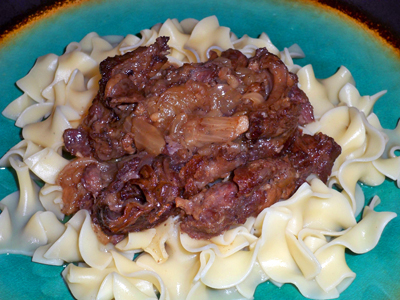 Verdict on the All-Clad Stainless with d5 saute pan:
My sentiments about cookware and sports cars are the same: I want sleek design and superior performance. This pan did not disappoint. All-Clad has incorporated some really smart design elements into this collection, including little touches that make for easier logistics, such as lid handles that can accommodate hands wearing oven mitts, cool handles on the pan should you forget said oven mitt (I have done so) and a pouring rim all the way around the edge. The pan is also quite light despite its enormous 6-qt. size.
Most important for me, however, is the even cooking across the surface of the pan. I had ribs inside and outside, and expected to have to move them around so the inner ones wouldn't burn, but caramelization transpired in harmony for all the ribs. Glee.
Cleanup with this pan was also effortless, even with caramelized gooey goodness all over the pan and lid. I will be experimenting much more with this pan, so I'll share further thoughts as they occur.